Boat rental
unlicensed
Drive your own boat!
NAUTICAL EXPERIENCES
Characteristics of the activity
Material de seguridad a bordo

Seguro

Combustible

Barco
Characteristics of the vessel
Toldo para protección solar

Escalera de baño

Altavoz bluetooth

Geolocalizador

Colchonetas solarium para tomar el sol

Nevera
Do you need more information? Contact us!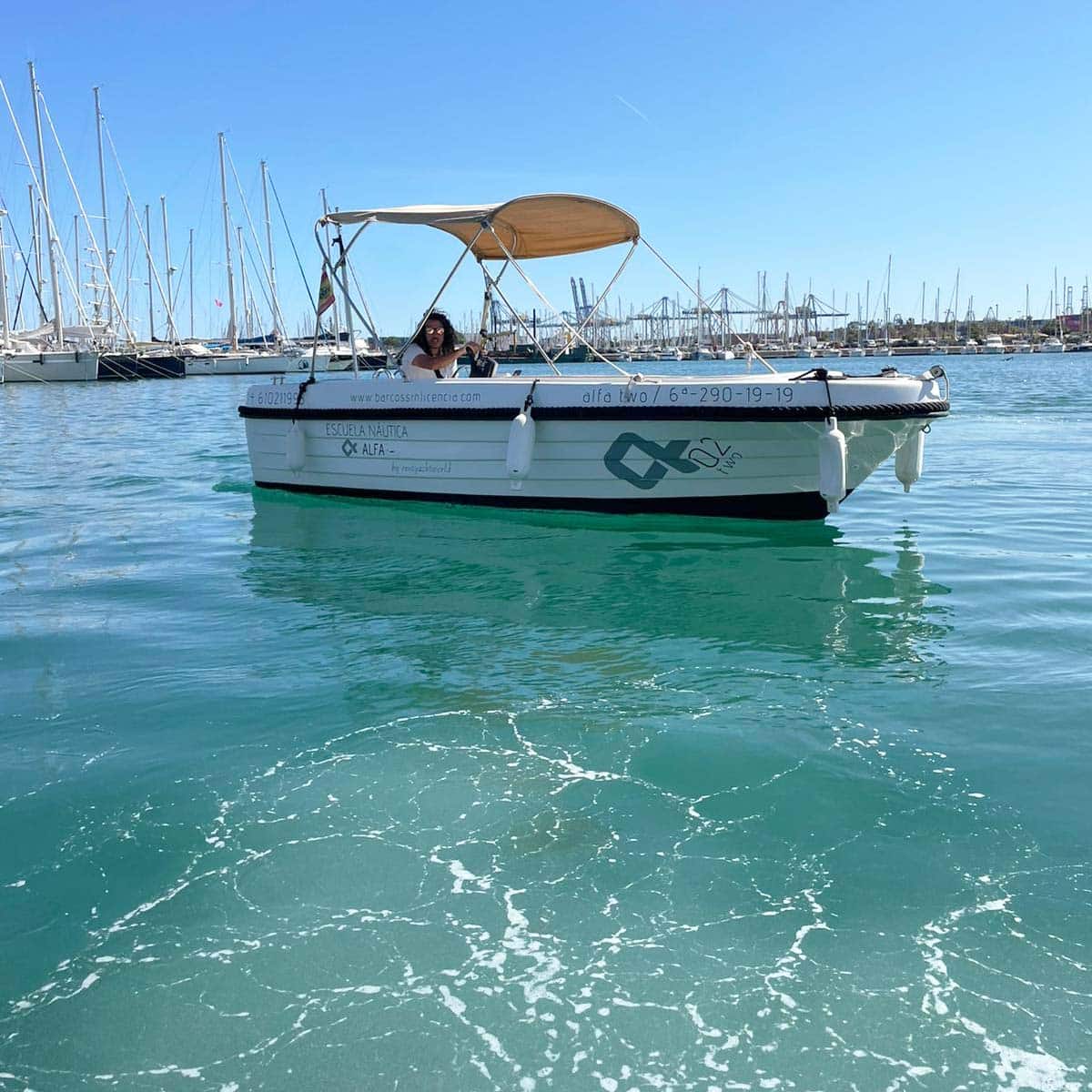 Spending a day on a boat
Enjoying a great weekend or holiday in Valencia must necessarily include the sea and the sand. But if you want to go beyond staying on the beach, you could venture out to sea. You can do this even if you don't have a boat licence. And at Alfa Náutica we offer you the possibility of renting boats without a licence so that you can be the captain of your vessel.
Valencia is one of the best places in Spain, even on the planet. So to enjoy it even more, why not venture out on a boat trip along the coast, without the need for a nautical qualification? Imagine being able to drive a totally safe boat yourself, with a geolocator, as well as all the necessary comforts. That is, from first aid kits, life jackets and even mats to enjoy the sun.
You can rent a scooter for an hour or longer, for any day of the week. Depending on the type of boat to be rented, you can have from one to 6 seats available on board.
Rent a motorboat in Valencia
Did you know that you can rent a 5 m boat in Valencia without a licence? Just book with us and we will be happy to tell you what unlicensed boat options are available for you. Once the day and time have been agreed, you arrive, we explain everything you need to know to steer the boat, ask us anything you want to know! And you'll be ready to spend a wonderful evening sailing along the coast in complete safety.
At Alfa Náutica we have professionals who will fully instruct you on everything you need to know about renting a boat without a licence. If you are interested in spending a totally different time from the conventional, where you can enjoy the sea in all its splendour and be the captain of the boat, contact us. We guarantee you a unique and highly enjoyable experience. Make your booking from our website or request information by filling in the contact form.